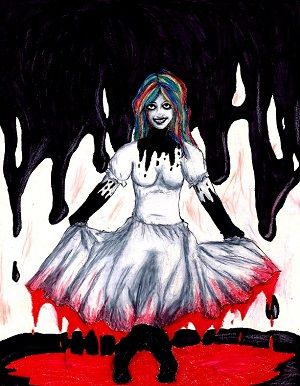 Welcome, I'm glad you were able to find your way to this page. You may call me Destiny and I am quite certain we will be good friends if you so wish.
Here you will find an assortment of various subjects. Of course, my most favorite of subjects is the delightful genre known as horror. I absolutely adore the primitive fear that horror ignites within an easily influenced mind. There is no better feeling than being all alone long after the sun has set and helping oneself to a good horror movie or story.
Now that I have gotten that out of the way I would like to say there is more here than just uneasiness. You may also find original art of different aspects of life or fanart of various series or movies. However, those are slowly dwindling as my aforementioned love of the dark and macabre take over.
Despite that I do hope you allow yourself to take some time to look around my humble page. Who knows, you may find something you like.
Tumblr:
destinykaspar.tumblr.com/
Youtube:
www.youtube.com/user/DestinyKa…
Fanfiction:
www.fanfiction.net/u/4378465/D…
Creepypasta Wiki:
creepypasta.wikia.com/wiki/Use…